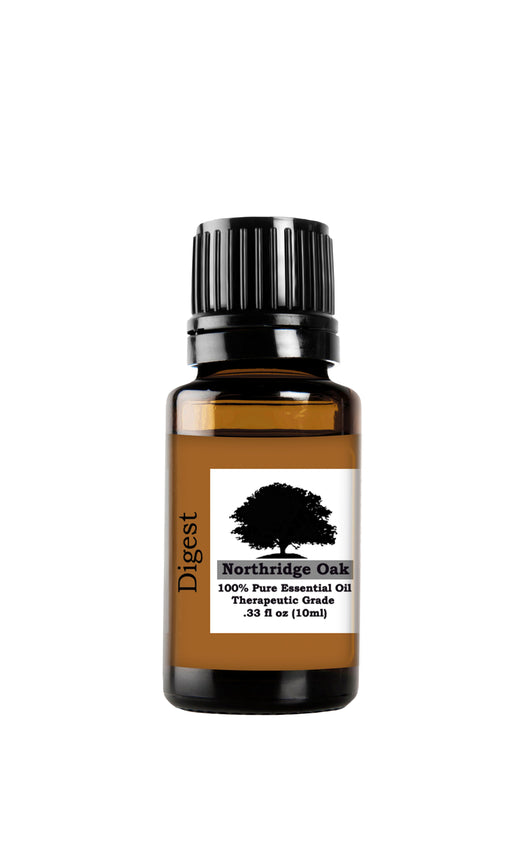 Northridge Oak - DIGEST - 100% Pure Essential Oil Blend
Regular price $0.00 $20.00 Sale
Introducing Northridge Oak Digest Essential Oil: Harness the Power of Nature for a Calmer Stomach
Are you tired of dealing with digestive discomfort and bloating? Say goodbye to digestive issues and hello to relief with Northridge Oak Digest Essential Oil, the perfect natural solution to promote digestive wellness.
Derived from a powerful blend of digestive-supporting essential oils, our premium-grade Digest Essential Oil is a gentle and effective way to soothe your digestive system, reduce bloating, and support overall digestive health.
Just a few drops of our Digest Essential Oil before or after meals along with appropriate lifestyle changes can help in speed up the digestive process, improve gut functions, reduce bloat and make you feel like yourself again. Here are some of the potential benefits:
Relieve Indigestion and Bloating: The gentle yet powerful blend of essential oils in Digest Essential Oil works together to calm and soothe the digestive tract, reducing symptoms of indigestion, bloating, and gas.

Boost Digestive Health: Improve your overall digestive function with Digest Essential Oil. Regular use can help promote optimal gut health, improve nutrient absorption, and support your body's natural processes.

Reduce Inflammation: The anti-inflammatory properties of Digest Essential Oil can help reduce inflammation in the gut and digestive tract, providing relief from symptoms such as diarrhea, abdominal pain, and cramping.

Promote Relaxation and Stress Relief: The calming aroma of Digest Essential Oil can help ease your mind and support a sense of relaxation, which can improve digestion by reducing stress and tension in the body.
With our easy-to-use dropper, incorporating Digest Essential Oil into your daily routine is simple and convenient. Add a few drops to your diffuser, massage a drop onto your stomach directly or inhale it from palms to ease the bloating sensation.
Crafted with premium ingredients, Northridge Oak Digest Essential Oil is pure and undiluted, ensuring you receive the full benefits of its exceptional qualities.
Say goodbye to digestive discomfort, and embrace a life of digestive wellness with Northridge Oak Digest Essential Oil. Try it now and nourish your gut with the exceptional benefits of nature's best ingredients.
 Ingredients:  Clove ( Syzygium aromaticum ), Fennel ( Foeniculum vulgare), Ginger root ( Zingiber officinale ), Peppermint (Mentha piperita ), & Spearmint ( Mentha spicata ).
*These statements have not been evaluated by the Food and Drug Administration. This product is not intended to diagnose, treat, cure or prevent any disease.