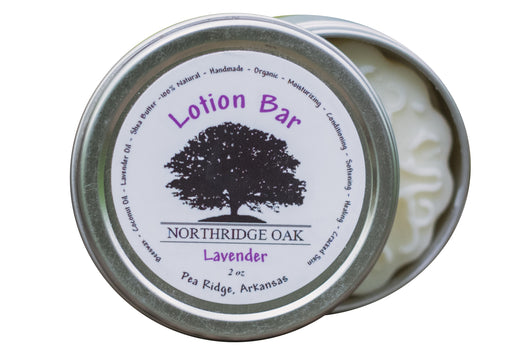 Northridge Oak - Shea Butter Lotion Bar - Lavender
Regular price $0.00 $8.50 Sale
Experience the luxurious and pampering benefits of our Northridge Oak Lotion Bars - specially crafted with the premium blend of all-natural ingredients for an irresistible and rejuvenating skincare experience. Our lotion bars will leave your skin soft, supple, and well-nourished for long-lasting hydration and health.
Our lotion bars contain a blend of nature's finest oils and butters, including coconut oil, beeswax, cocoa butter, shea butter, and more to create a smooth and nourishing balm that not only hydrates the skin intensely but also has protective properties that increase the skin's defense against the environment.
Benefits of Our Northridge Oak Lotion Bars:
Intense Moisturization - Our lotion bars offer a gentle and nourishing hydration to your skin, which helps to improve skin texture, restore collagen, and reduce the appearance of fine lines and wrinkles.

Nourishing Ingredients - Packed with an exclusive blend of natural butters and oils, our lotion bars provide the necessary nutrients that your skin needs, deeply nourishing and protecting it.

Long-lasting Hydration - Our lotion bars' hydrating properties refresh and revitalize skin, while the lasting formula keeps your skin soft and smooth throughout the day.

Safe and All-Natural - We use only the finest quality natural ingredients, ensuring that our lotion bars are free from harmful chemicals, synthetic fragrances, and preservatives, making it safe to use even on sensitive skin.

Convenient On-the-go - Our lotion bars' easy-to-use and packaged perfectly makes it convenient to use and the perfect solution to carry in a purse or bag for fresh and hydrated skin throughout the day.
Experience the luxurious feel of our Northridge Oak Lotion Bars, natural and cruelty-free balm, crafted to deliver an unforgettable and rejuvenating skincare experience. Whether it's a treat for yourself or a perfect gift for a loved one, our lotion bars are the perfect choice for healthy, nourished, and revitalized skin.
Order today and indulge in the luxury of our all-natural lotion bars for a nourished and moisturized skin you deserve!
Directions: Twist top off and pop bar out. Rub bar between hands or over dry areas of body.