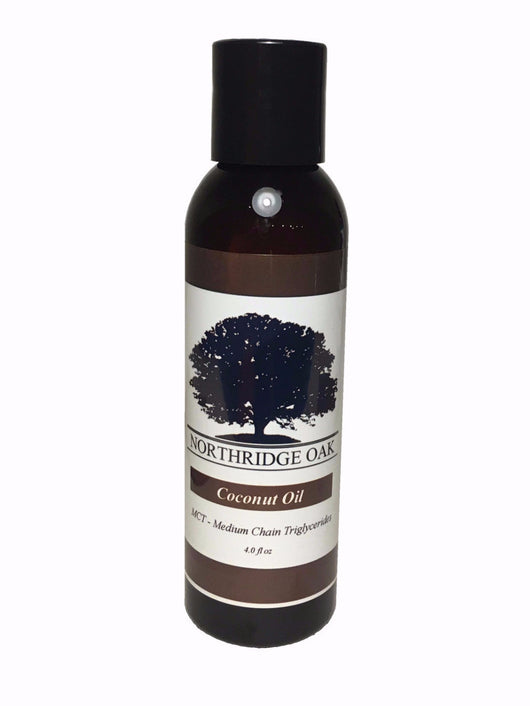 Coconut Oil
Regular price $0.00 $10.00 Sale
Coconut Oil - MCT
Introducing Northridge Oak's Fractionated Coconut Oil: The Perfect Companion for Your Skin and Hair!
Why choose Northridge Oak's Fractionated Coconut Oil? With its countless benefits and superior quality, our product is an essential addition to your beauty routine. Derived from premium coconuts and expertly fractionated, our oil is designed to nourish and revitalize your skin and hair like never before.
✨ Experience the Northridge Oak Difference ✨
🌴 Pure and All-Natural: Our fractionated coconut oil is 100% pure and free from any additives or harmful chemicals. You can trust that every drop is packed with natural goodness, ensuring the best possible results for your body.
🌴 Versatile Beauty Solution: This multipurpose oil is perfect for all your beauty needs. Use it as a moisturizer, massage oil, carrier oil for essential oils, or in DIY skincare recipes. Discover endless possibilities and enjoy the versatility it brings to your routine.
🌴 Deep Hydration and Nourishment: Our fractionated coconut oil effortlessly penetrates the skin, providing deep hydration and nourishment. Say goodbye to dryness, and hello to a luminous, healthy complexion that radiates with vitality.
🌴 Silky Smooth Hair: Unlock the secret to gorgeous locks with our fractionated coconut oil. It works wonders as a leave-in conditioner, taming frizz, promoting shine, and giving your hair a silky, lustrous finish. Embrace confident, head-turning hair every day.
🌴 Light and Non-Greasy: Experience the luxury of a lightweight oil that absorbs quickly, leaving no greasy residue behind. Our formula ensures a comfortable and non-sticky feel, making it perfect for all skin types.
🌴 Crafted with Care: At Northridge Oak, we take pride in crafting our fractionated coconut oil with the utmost care and commitment to quality. Every bottle undergoes rigorous testing and is packaged with love, guaranteeing an exceptional product that exceeds your expectations.
✨ Elevate Your Beauty Routine Today! ✨
Don't miss out on the premium quality and incredible benefits of Northridge Oak's Fractionated Coconut Oil. Transform your skin and hair with the nourishing power of nature. Order now and experience the Northridge Oak difference for yourself!