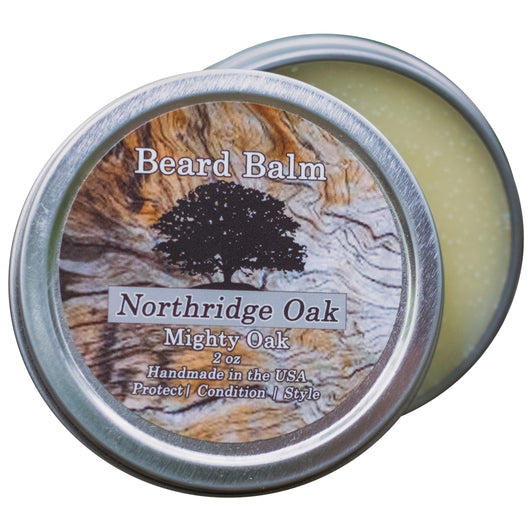 Northridge Oak - Beard Balm - Mighty Oak
Regular price $15.00 Sale
Experience the Power of Northridge Oak Mighty Oak Beard Balm!
Introducing the groundbreaking Mighty Oak Beard Balm by Northridge Oak, the ultimate solution for the modern beardsman. Unleash the true potential of your beard with this powerful balm that offers unmatched nourishment, styling, and a touch of sophistication. Get ready to command attention and exude confidence like never before!
Here are the exceptional benefits of Northridge Oak Mighty Oak Beard Balm:
🌿 Deep Nourishment: Infused with a unique blend of natural ingredients, Mighty Oak Beard Balm deeply nourishes and conditions your beard, leaving it irresistibly soft, healthy-looking, and luxuriously smooth.
💪 Superior Hold: Tame and conquer any unruly beard with ease. Our Mighty Oak Beard Balm provides a strong hold that keeps your facial hair perfectly styled, no matter the weather or activity. Say goodbye to flyaways!
✨ Healthier, Fuller Beard: Promote healthy beard growth and combat patchiness with our specially formulated balm. Mighty Oak Beard Balm helps to fill in sparse areas, giving your beard a fuller, denser appearance that will turn heads.
🕶️ Subtle Masculine Scent: Embrace the alluring essence of masculinity with the captivating scent of Mighty Oak Beard Balm. It leaves a subtle and sophisticated fragrance that lingers throughout the day, making a lasting impression wherever you go.
💼 Portable Grooming Essential: Designed for the modern man on the move, Mighty Oak Beard Balm comes in a sleek and travel-friendly tin. Carry it with you wherever you venture and keep your beard looking well-groomed and impeccable at all times.
Empower your beard with the strength and sophistication it deserves. Northridge Oak Mighty Oak Beard Balm is the ultimate grooming secret that will help you sculpt a beard that embodies power, confidence, and individuality.
Don't settle for anything less than extraordinary. Elevate your beard game with Northridge Oak Mighty Oak Beard Balm and unlock the true potential of your magnificent facial hair. It's time to make a bold statement with your powerful beard! #NorthridgeOak #MightyOakBeardBalm #UnleashYourBeardsPower #ConfidentPresence #GroomingGameChanger
Ingredients: Coconut Oil, Jojoba Oil, Beeswax, Vitamin E, Cedarwood Oil, Balsam Fir Oil