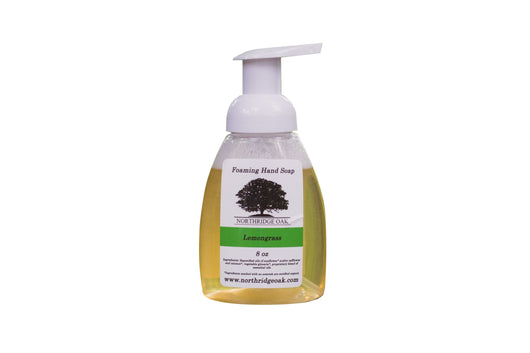 Organic Foaming Hand Soap - Lemongrass - 8oz
Regular price $0.00 $6.50 Sale
Experience the Zing of Refreshment with Northridge Oak Lemongrass Foaming Hand Soap!
Introducing the vibrant and invigorating Lemongrass Foaming Hand Soap by Northridge Oak. This sensational blend of zesty lemongrass and nourishing ingredients brings a burst of freshness to your hand hygiene routine. Get ready to elevate your hand care experience to new heights!
Let's explore the incredible benefits of Northridge Oak Lemongrass Foaming Hand Soap:
🍋 Uplifting Aroma - Immerse yourself in the zingy and citrusy fragrance of lemongrass. The lively scent instantly revitalizes your senses, leaving you feeling energized and ready to conquer the day.
🌿 Nourish & Pamper - Enriched with moisturizing and skin-loving ingredients, this foaming hand soap nurtures your skin while effectively cleansing. Say goodbye to dry and rough hands, and hello to soft, supple skin.
💧 Gentle & Effective Cleansing - Our Lemongrass Foaming Hand Soap provides a gentle yet thorough cleanse, removing dirt and germs without stripping the skin's natural moisture. Enjoy clean and fresh hands every time.
🌿 Aromatic Retreat - Transport yourself to a spa-like oasis with the invigorating scent of lemongrass that lingers long after you wash your hands. Transform a mundane task into a moment of blissful relaxation.
🌱 Sustainable Choice - We believe in sustainability. Our refillable bottles help reduce waste and our commitment to eco-friendly practices, making Northridge Oak Lemongrass Foaming Hand Soap an environmentally responsible choice.
💚 Premium Quality Ingredients - Crafted with utmost care, this hand soap is made with premium-quality ingredients that are gentle on the skin, ensuring a luxurious and indulgent experience every time.
Elevate your hand hygiene routine to a whole new level with the zest and freshness of Northridge Oak Lemongrass Foaming Hand Soap. Feel the invigorating sensation and enjoy the benefits of beautifully cleansed and nourished hands.
Don't miss out on the opportunity to pamper yourself and add a touch of revitalizing delight to your everyday life. Experience the magic of Northridge Oak Lemongrass Foaming Hand Soap today! #NorthridgeOak #LemongrassFoamingHandSoap #Freshness #Energizing #NourishAndRevitalize
These statements have not been evaluated by the Food and Drug Administration. This product is not intended to diagnose, treat, cure or prevent any disease.
Life is Short | Live the Life you Love