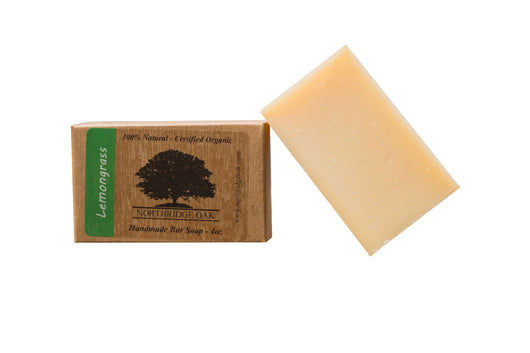 Northridge Oak - Organic Bar Soap - Lemongrass Medley - 4oz
Regular price $0.00 $6.50 Sale
Experience the refreshing and uplifting benefits of our Northridge Oak Lemongrass Bar Soap. Expertly crafted with premium, all-natural ingredients, this soap bar provides a luxurious and invigorating bathing experience. Our Lemongrass soap offers a vibrant blend of natural scents and skincare benefits that will leave you feeling energized, refreshed, and ready to seize the day.
The Benefits of Our Northridge Oak Lemongrass Bar Soap:
Energizing Aroma - Our soap bar combines the zesty and citrusy scent of lemongrass with hints of earthy undertones, creating an energizing and invigorating aroma that stimulates your senses and uplifts your mood. Start your day with a burst of freshness that lingers on your skin throughout the day.

Deep Cleansing - Formulated with a nourishing blend of natural oils and extracts, our soap bar effectively cleanses the skin, removing impurities, sweat, and excess oils without stripping it of its natural moisture. It leaves your skin feeling clean, revitalized, and ready to conquer any challenge.

Rejuvenates and Revitalizes - Enriched with skin-loving ingredients like shea butter and coconut oil, our soap bar provides hydration and helps to rejuvenate and revitalize tired and dull skin. It helps maintain moisture levels, leaving your skin looking and feeling refreshed, smooth, and glowing.

Gentle on Skin - Our Lemongrass soap is gentle enough for all skin types, including sensitive skin. It is free from harsh chemicals and artificial additives, ensuring a gentle and soothing bathing experience. Enjoy the invigorating benefits without worrying about irritation or dryness.

Artisan Quality - Each bar of our Northridge Oak Lemongrass Bar Soap is meticulously handcrafted, showcasing exceptional quality and attention to detail. Its elegant design and vibrant fragrance make it a stylish addition to any bathroom and a thoughtful gift for friends and family.
Immerse yourself in the exhilarating experience of our Northridge Oak Lemongrass Bar Soap. Let the refreshing and lively scent of lemongrass awaken your senses and invigorate your body, while the gentle yet effective cleansing formula nourishes and rejuvenates your skin. Elevate your bathing routine and indulge in the pure pleasure of this artisan-crafted soap.
Order today and discover the unique combination of scent and skincare benefits that our Northridge Oak Lemongrass Bar Soap has to offer. Transform your daily shower into a refreshing and aromatic escape and embrace the energizing power of lemongrass. Start each day feeling renewed and ready to conquer the world with this irresistible soap.
 *These statements have not been evaluated by the Food and Drug Administration. This product is not intended to diagnose, treat, cure or prevent any disease.
Life is Short | Live the Life you Love