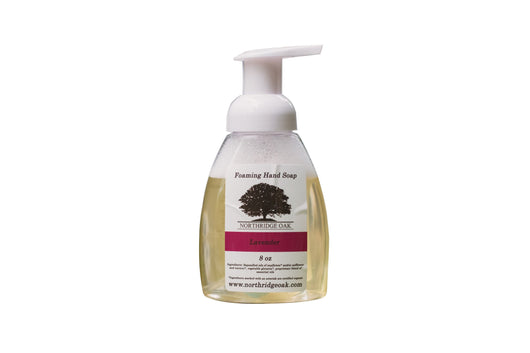 Organic Foaming Hand Soap - Lavender - 8oz
Regular price $0.00 $6.50 Sale
Indulge in the Luxuries of a Lavender Aromatherapy Experience with Northridge Oak Foaming Hand Soap!
The ultimate in hand hygiene and relaxation - Lavender Foaming Hand Soap! Infused with 100% pure and organic essential oil of lavender, this luxurious foaming hand soap offers a spa-like experience right in your own home.
So why choose Northridge Oak Lavender Foaming Hand Soap? Let's dive into the benefits!
🌿 Beneficial Ingredients - Made with natural ingredients and free of harsh chemicals, our hand soap guarantees gentle cleansing without stripping the skin of its natural oils.
👏 Easy to Use - Enjoy the convenient pump bottle that dispenses the perfect amount of foam to wash your hands thoroughly and efficiently.
🌸 Relaxing Scent - Indulge in the calming and therapeutic properties of lavender oil that soothes your senses and offers relaxation after a long and stressful day.
💦 Nourish and Soften - Fortified with hydrating and nourishing ingredients, our foaming hand soap softens your skin, preventing dryness and leaving your hands feeling silky smooth.
🧼 Effective Cleansing - Our Lavender Foaming Hand Soap is highly effective in cleaning and providing protection against germs and bacteria.
🌿 Environmentally Friendly - Our refillable bottles help reduce waste and minimize plastic usage, making Northridge Oak Lavender Foaming Hand Soap a sustainable and eco-friendly choice for conscious consumers.
✨ Unmatched Quality - Our products are handcrafted with care to ensure optimum quality, so you can enjoy a spa-worthy experience on every use.
Experience the magic of Northridge Oak Lavender Foaming Hand Soap, transform it from a mundane daily task into a luxurious one that promises to rejuvenate, soothe, and relax! 💜
Don't hesitate, grab your bottle today and say goodbye to harsh and ineffective hand soaps! #NorthridgeOak #LavenderFoamingHandSoap #HandHygiene #Relaxation #OrganicEssentialOil
These statements have not been evaluated by the Food and Drug Administration. This product is not intended to diagnose, treat, cure or prevent any disease.
Life is Short | Live the Life you Love