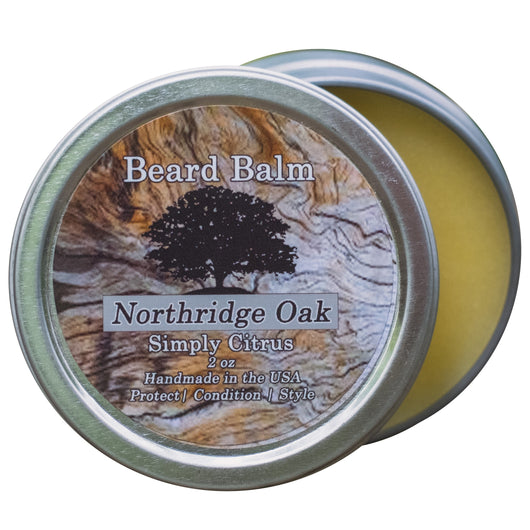 Northridge Oak - Beard Balm - Simply Citrus
Regular price $15.00 Sale
Experience a Citrus-infused Grooming Oasis with Northridge Oak Simply Citrus Beard Balm!
Introducing Northridge Oak Simply Citrus Beard Balm - the grooming essential that takes your beard care routine to a whole new level. Immerse yourself in a refreshing citrus-infused oasis with our expertly crafted beard balm, designed to nourish, style, and invigorate your beard like never before.
Here are the exceptional benefits of Northridge Oak Simply Citrus Beard Balm:
🍊 Nourishes and Conditions: Our unique blend of natural ingredients, enriched with the essence of citrus, deeply nourishes and conditions your beard. With the perfect combination of hydrating oils and nourishing butter, our beard balm moisturizes each strand, promoting a healthy, soft, and lustrous beard.
✨ Provides Shape and Control: Tame unruly facial hair and achieve the perfectly groomed look with Simply Citrus Beard Balm. The lightweight formula offers excellent hold, making it easier than ever to shape and style your beard. Say goodbye to flyaways and hello to a well-groomed and neatly styled beard.
⚡️ Enhances Beard Growth: The revitalizing properties of citrus in Simply Citrus Beard Balm stimulate the hair follicles, promoting optimal growth and helping to fill in any patchy areas. Experience a beard that appears fuller, thicker, and more vibrant.
🍊 Invigorating Citrus Scent: Transport yourself to a fragrant citrus grove with the irresistible scent of Simply Citrus Beard Balm. The fresh and uplifting citrus aroma will invigorate your senses and leave you feeling refreshed and confident throughout the day.
💼 Easy Application: With its convenient tin container, Northridge Oak Simply Citrus Beard Balm is a breeze to use. Take control of your beard grooming routine and enjoy the benefits of a well-styled and citrus-infused beard wherever you go.
Elevate your grooming experience to new heights with Northridge Oak Simply Citrus Beard Balm. Let the refreshing and invigorating citrus aroma awaken your senses and transform your beard into a masterpiece that commands attention.
Don't settle for anything less than extraordinary - experience the citrus-infused oasis with Northridge Oak Simply Citrus Beard Balm. Add to cart now and let your beard bask in the revitalizing benefits of the citrus grove. #NorthridgeOak #SimplyCitrusBeardBalm #GroomingOasis #RevitalizingElixir #BeardMasterpiece
Ingredients: Coconut Oil, Shea Butter, Jojoba Oil, Beeswax, Vitamin E, Blood Orange Essential Oil, Bergamot Essential Oil