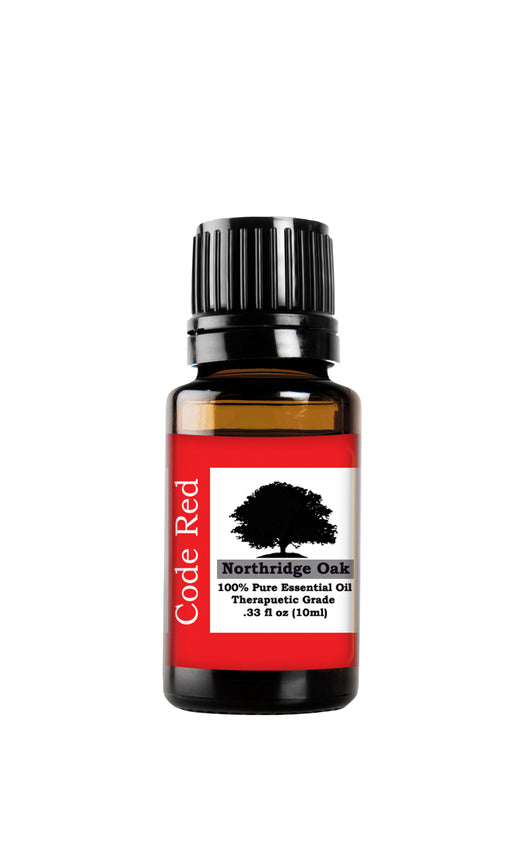 Northridge Oak - Code Red - 100% Pure Essential Oil Blend
Regular price $0.00 $30.00 Sale
Code Red

 Essential Oil Synergy
Unleash the Invigorating Power of Northridge Oak Code Red Essential Oil!

Introducing Northridge Oak Code Red Essential Oil - the ultimate essential oil blend that will captivate your senses and elevate your well-being.  Don't let Anxiety or Depression control you any longer, Immerse yourself in a world of invigorating aromas and experience the exceptional benefits of our expertly crafted oil blend.
Here are the irresistible benefits of Northridge Oak Code Red Essential Oil:
🔥 Energizes and Uplifts: Awaken your senses with the exhilarating scent of Code Red Essential Oil. Our unique blend of invigorating fragrances instantly uplifts your mood and energizes your mind, providing the perfect boost whenever you need it.
✨ Promotes Relaxation and Stress Relief: Indulge in the calming effects of Code Red Essential Oil and let the stress melt away. Our carefully selected blend helps to create a serene atmosphere, promoting relaxation and a sense of tranquility. Say goodbye to tension and embrace a state of pure bliss.
⚡️ Freshens and Purifies: Experience the refreshing properties of Code Red Essential Oil as it cleanses and purifies the air around you. Delight in the rejuvenating scent that effortlessly eliminates unwanted odors, leaving your environment fresh and invigorated.
🌿 Versatile and Easy to Use: Code Red Essential Oil is extremely versatile and can be utilized in various ways. Use it for aromatherapy, create your own DIY beauty products, or enhance your cleaning routine - the possibilities are endless. With its convenient dropper bottle, you can easily control the amount and enjoy the benefits with ease.
💚 High-Quality and Pure: Northridge Oak ensures that Code Red Essential Oil is crafted with utmost care and precision. Our oil blend is sourced from the finest natural ingredients, ensuring a premium-quality product that you can trust.
Transform your space and elevate your well-being with the irresistible allure of Northridge Oak Code Red Essential Oil. Let the invigorating aroma awaken your senses, promote relaxation, and create an atmosphere of pure bliss.
Don't settle for an ordinary experience - indulge in the captivating power of Northridge Oak Code Red Essential Oil. Add to cart now and embrace a life filled with invigorating scents and revitalizing energy. #NorthridgeOak #CodeRedEssentialOil #InvigoratingAromas #ElevateYourWellBeing #CaptivatingBliss
Ingredients: Basil (Ocimum Basilicum), Blood Orange (Citrus sinensis), French Lavender (Lavandula stoechas), Geranium (Pelargonium Graveolens), Clary Sage (Salvia sclarea), Vetiver (Vetiveria zizanoides), and Cedarwood (Cedrus Atlantica).
*avoid contact with eyes and dilute prior to use.
*These statements have not been evaluated by the Food and Drug Administration. This product is not intended to diagnose, treat, cure or prevent any disease.