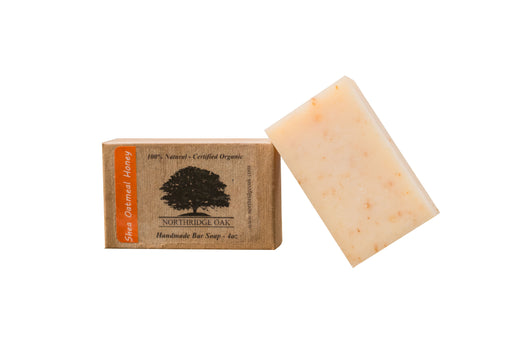 Northridge Oak - Organic Bar Soap - Unscented Oatmeal Honey - 4oz
Experience pure simplicity and gentle nourishment with our Northridge Oak Unscented Honey Oatmeal Organic Bar Soap. Meticulously handcrafted using premium, all-natural ingredients, this soap bar offers a luxurious and soothing bathing experience. Our Unscented Organic soap is specially formulated with care, providing a gentle and effective option for those with sensitive skin or fragrance sensitivities.
The Benefits of Our Northridge Oak Unscented Honey Oatmeal Bar Soap:
Gentle and Mild - Our Unscented Organic Soap bar is free from added fragrances and suitable for even the most sensitive skin types. It is specifically designed to provide a gentle and mild cleansing experience without irritating or causing dryness. Enjoy the pure and natural goodness of unscented soap.

Soothing and Moisturizing - Infused with the nourishing benefits of honey and the calming properties of oatmeal, our soap bar helps to soothe and hydrate the skin. It gently cleanses and moisturizes, leaving your skin feeling soft, smooth, and nourished.

Exfoliating Action - The fine oatmeal particles in our soap bar provide a gentle exfoliating action, gently removing dead skin cells and revealing a brighter, healthier-looking complexion. Enjoy the benefits of exfoliation without harsh ingredients or artificial additives.

Suitable for All Skin Types - Our Unscented Organic soap is suitable and beneficial for all skin types, including sensitive and dry skin. It is crafted with care, using natural ingredients that respect and nourish your skin's natural balance, leaving it feeling calm and revitalized.

Handcrafted Excellence - Each bar of our Northridge Oak Unscented Organic Soap is lovingly handmade, showcasing superior quality and attention to detail. Its simple and elegant design makes it a perfect addition to any bathroom and a thoughtful gift for loved ones.
Indulge your skin with the pure and gentle care of our Northridge Oak Unscented Organic Soap. Experience the soothing and moisturizing benefits of honey and oatmeal, without any added fragrances or irritants. Elevate your bathing routine and immerse yourself in the luxurious simplicity of this artisan-crafted soap.
Order today and enjoy the benefits of unscented soap that nourishes and rejuvenates your skin. Rediscover the beauty of natural simplicity with our Northridge Oak Unscented Honey Oatmeal Organic Bar Soap.
Life is Short | Live the Life you Love
These statements have not been evaluated by the Food and Drug Administration. This product is not intended to diagnose, treat, cure or prevent any disease.