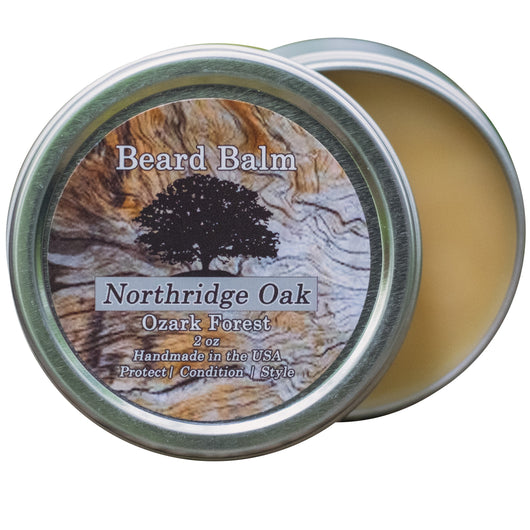 Northridge Oak - Beard Balm - Ozark Forest
Regular price $15.00 Sale
Experience the Enchanting Aroma of Northridge Oak Ozark Forest Beard Balm!
Introducing Northridge Oak Ozark Forest Beard Balm - the grooming essential that transports you to the heart of nature's untouched wilderness. Immerse your senses in the captivating scent of the forest while enjoying the nourishing and styling benefits that our beard balm provides. Get ready to unleash the power of the forest and elevate your beard to new heights!
Here are the exceptional benefits of Northridge Oak Ozark Forest Beard Balm:
🌿 Natural Nourishment: Our carefully crafted formula is infused with the finest natural ingredients that deeply nourish and moisturize your beard, leaving it smoother, softer, and more manageable. Say goodbye to dryness and hello to a luxurious, well-groomed beard.
🌲 Enchanting Forest Scent: Experience the captivating aroma of the forest with every application. The rich and earthy fragrance of Ozark Forest Beard Balm brings a sense of tranquility and adventure to your grooming routine, allowing you to carry the essence of the forest wherever you go.
✨ Style with Ease: Tame unruly hairs and shape your beard effortlessly with the perfect balance of hold and flexibility provided by our beard balm. Maintain your desired style throughout the day, regardless of your beard length or type.
🌱 Soothing and Calming: Formulated with natural ingredients, our beard balm helps soothe any irritation or itchiness associated with beard growth. Experience a calm and comfortable beard-growing journey as you let the soothing properties of the Ozark Forest do their magic.
💼 Travel-Friendly: Packaged in a sleek and compact tin, Northridge Oak Ozark Forest Beard Balm is your ideal travel companion. Take it with you wherever your adventures lead, and ensure your beard stays nourished, styled, and infused with the natural essence of the forest.
Elevate your beard grooming routine to a whole new level with Northridge Oak Ozark Forest Beard Balm. It's more than just a grooming product; it's an experience that transports you to the serene tranquility of the forest while providing essential care for your beard.
Embrace the power of nature and indulge in the enchanting aroma of the forest with Northridge Oak Ozark Forest Beard Balm. Unleash the full potential of your beard and let it thrive in the mystical allure of the forest. Don't wait any longer - bring the forest to your beard grooming routine today! #NorthridgeOak #OzarkForestBeardBalm #ImmerseInNature #BeardGroomingEssentials #UnleashTheForestPower
Ingredients: Coconut Oil, Shea Butter, Jojoba Oil, Beeswax, Vitamin E, Blend of Essential Oils