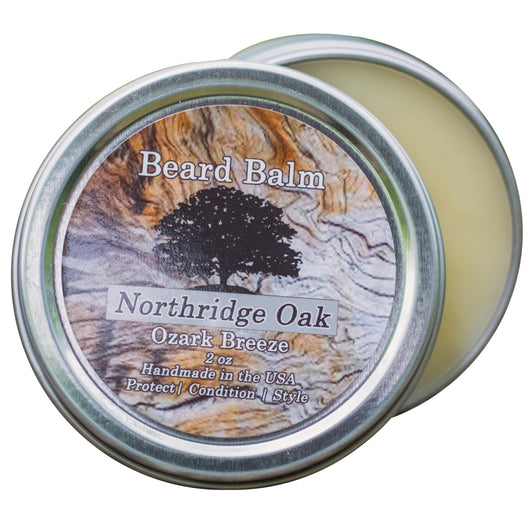 Northridge Oak - Beard Balm - Ozark Breeze
Regular price $0.00 $15.00 Sale
Experience the Cool, Fresh Air of Northridge Oak Ozark Breeze Beard Balm!
Introducing Northridge Oak Ozark Breeze Beard Balm - the ultimate grooming solution for the modern beardsman. Our luxurious balm offers an unequalled combination of nourishing, styling, and refreshing benefits, leaving you with a well-groomed beard that feels and looks fantastic.
Here are the exceptional benefits of Northridge Oak Ozark Breeze Beard Balm:
🌿 Nourishment and Moisture: Our perfectly formulated balm is packed with natural ingredients that deeply nourish and hydrate your beard. Say goodbye to dry and brittle facial hair and revel in a beard that's smooth, healthy, and soft.
❄️ Cooling Sensation: The refreshing scent of Ozark Breeze Beard Balm delivers a burst of cool, crisp freshness that invigorates your senses. Enjoy a rejuvenating sensation that will keep you going all day long.
✨ Styling and Management Made Easy: With the perfect balance of hold and flexibility, our balm enables easy styling and ensures unruly hairs are tamed. Achieve your desired style and maintain it throughout the day - no more beard dramas!
⚡️ Reduces Irritation and Itchiness: Our beard balm contains only the finest natural ingredients, making it ideal for reducing skin irritation and itchiness often associated with beard growing. Say goodbye to unpleasant sensations and hello to beard comfort.
💼 Convenient and Portable Grooming: The Ozark Breeze Beard Balm comes in a sleek and portable tin that's perfect for the modern man on the move. Keep it in your pocket or bag and enjoy perfectly groomed and moisturized facial hair always.
Transform your beard into a closely maintained work of art with Northridge Oak Ozark Breeze Beard Balm. Our balm is perfect for any beard type and length, provides easy styling, deep moisture, and refreshing scent, and makes beard grooming a breeze.
Experience the luxurious and refreshing sensation of Northridge Oak Ozark Breeze Beard Balm today. Feel and see the difference in your beard - it'll be softer, richer, and more manageable than ever before. Don't hesitate, get your Northridge Oak Ozark Breeze Beard Balm today! #NorthridgeOak #OzarkBreezeBeardBalm #CoolAndInvigorating #WellGroomedBeard #GroomingEssentials
Ingredients: Coconut Oil, Shea Butter, Jojoba Oil, Beeswax, Vitamin E, Blend of Essential Oils